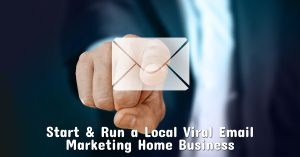 In my most popular Udemy course (with over 7800 students and 550 x 5 star reviews) I show you exactly how to copy me and set up your own profitable viral email marketing home business.
This is the exact same business that I have been running for over four years and I continue to have dozens of small businesses who pay me month after month to run the service for them.
In short, I use viral prize draws (the business pays for the prize) to build a large email list for the business. I then send a monthly newsletter to the email list to promote the business, give special offers etc.  This gets extra customers for the business, they make more profits and they continue to pay me for the service.
It's a highly profitable business that I can highly recommend!
The great thing is – that the income is recurring.
My clients happily pay monthly – so the only time I need to go to find new clients is if I DO decide to grow the business further.
The businesses that are my clients start by paying me $60 monthly for the service I provide for them, but as the results come quickly, this figure rises to $150 per month or even more.
I also offer additional services to my clients that means some of them pay me from $300 up to $600 per month, every single month.
In this course I show you everything that I do in this home business so that you can do it too.
You'll see how I get new clients, how I get great results for them quickly, and even the additional services that I offer them.
You'll watch over my shoulder and see me set everything up so that you can duplicate it and get your own profitable business up and running quickly!
I offer large discounts on all of my courses to readers of this website.  If you'd like a discount coupon for the Viral Email Marketing course, you can claim yours from the automated Messenger bot by clicking this button…