UPDATE: There are currently just 2 places available at $27 per month (or as low as $16.42 per month with the yearly payment option)
On the 1st March 2019 it was exactly 13 years since I became self-employed, working from home on the internet. Because of this, I have decided to re-open the doors on my Home Business Coaching and Mentoring program for a further 20 people only.
If you've ever wanted 1 on 1 coaching and mentoring to boost your home business success, but didn't want to pay $1000's for the privilege, then this program will be perfect for you!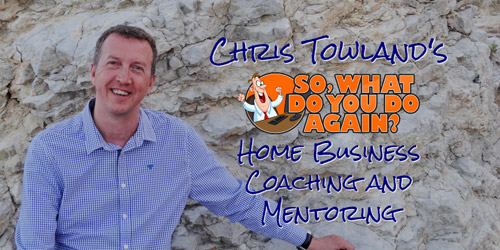 As your Coach and Mentor, I will be there to…
Brainstorm and discuss your ideas with.
Push you to take action.
Help you with technical issues that are slowing you down.
Suggest ideas, tips and shortcuts that will aid your progress.
Share the knowledge of my 20+ years in online business.
Share the resources that I find invaluable in my own business.
Point you in the right direction.
Help you when you get stuck.
All in all, I will be there to help you succeed with your home business!
For just $27 per month (and as low as $16.42 per month if paying yearly), you get all of the following…
1 to 1 access to me via email
You can email me questions about anything to do with setting up and succeeding with your own home business. Whether you are offering a service to local businesses, affiliate marketing, creating info products or running any other type of home business, I will help you to get your business set up and working and then growing so that you increase your earnings. My replies to your emails may come in the form of a written email reply, a link to resources that will help you, or very often, a video that I record just for you, to visually answer your questions.
An accountability partner
At the start of each month, I'll email you to ask you what you're looking to accomplish with your business that month or what steps you're aiming to complete. Your reply to me then serves as a short term goal for you to strive towards. Studies have proved that when you're accountable to someone else for your success, results improve dramatically. Also, I will be checking to see how much you've completed! 🙂
Free access to one of my Udemy courses each month (from month 2)
If you don't already own all of my home business courses on Udemy, then each month you can request free access to one of the courses. You'll also get completely free access to any new courses that I release on Udemy.
Access to Private Label Rights (PLR) products
I regularly purchase Private Label Rights to products that will help me with my own businesses. When the licenses allow, I make these available to my coaching clients at no cost.
My coaching group has been full for over 7 months and I'm not sure when it will re-open after these 20 new places are filled, so if you'd like to join, please do so now before this page is removed. You can join by choosing one of the options below…
Looking for Phone / Skype Coaching & Mentoring too?
I currently have just one space in my Coaching and Mentoring Gold Program. In Gold, as well as all of the above, you also get phone / Skype or WhatsApp access to me every month. This is usually used as one 30 minute call every week or up to 6 sessions of 20 minutes just when you need them.
We can use this time to look at any aspect of your business, solve any problems you are having, or to plan your next steps in succeeding with your business.
The cost of the Gold Program is $197 per month and you can join via the button below…
.
.
I look forward to helping you to succeed in your home business.
Best regards,

.
.
ps Here are some of the questions I've been asked about my Coaching and Mentoring program along with my answers…
Do I need to join for any lengthy period of time?
Not at all. If you're paying monthly, then you can cancel at any time and your membership will cease at the end of the period you have paid for. If you choose the yearly option, then again you can cancel your payments whenever you wish and your membership will cease at the end of the 12 month period. Of course, I aim to make your membership so valuable that you'll never want to cancel.
Why is it only $27 per month?
There are a few reasons. Firstly, I wanted to make it accessible to people who are just getting started with their home business. I know from personal experience how much having a coach and mentor can boost a person's chances of success in business, but I also understand that often funds are limited and most people can't afford to pay $2000 or $3000 for a full mentor program. Also, because it is email based coaching and mentoring, I can fit my replies around my main business activities and so it doesn't take up the time I need for running my main businesses, therefore I can keep the costs low.
Will you guarantee my success?
Unfortunately I can't do that. Although I can answer your questions and suggest solutions that have been successful and profitable for me and many others, it is still up to you to put the effort in to make your own business work. In other words, I'll help as much as I can, but your success is in your own hands.
How many emails can I send to you?
I run the coaching program on a 'fair usage' basis. Because the membership is only $27 per month, I can't commit to answering 50 emails from each member in a month. With my business commitments I just don't have the time for that and I'm sure you wouldn't expect it for just $27. Most members send 2 or 3 emails per month but if sometimes, particularly when first starting out, you need more help, then that is fine.
Will I be able to call you instead of emailing?
That is just not possible in this program I'm afraid. The reason I can offer this program for just $27 is that I can answer email questions in my own time rather than have to schedule time for calls etc. Also, as I'm sure you know, even a 'quick 10 minute call' often ends up taking over half an hour or more. I do have clients that pay $197 per month for personal coaching that includes phone or Skype time with me so please see the Gold option above if this is something you'd be interested in.
What can I ask questions about?
Anything to do with setting up and running a home business. So it could be about getting started, choosing a business, the technical side of websites or autoresponders, marketing and promoting your business, shortcuts to success, or just any issues you come up with in the running of your business. In my 12 years of working from home I've had lots of experience of affiliate marketing, selling on Amazon, creating services to offer to local businesses, building websites, creating info products (ebooks, physical books, video courses, audio products), creating local directory sites, creating courses on Udemy, investing, coaching and mentoring and much more, so feel free to ask away. If you ask me a question that I can't answer myself, then I normally have someone in my business network who will be able to give me an answer for you.